LGBT+ History Month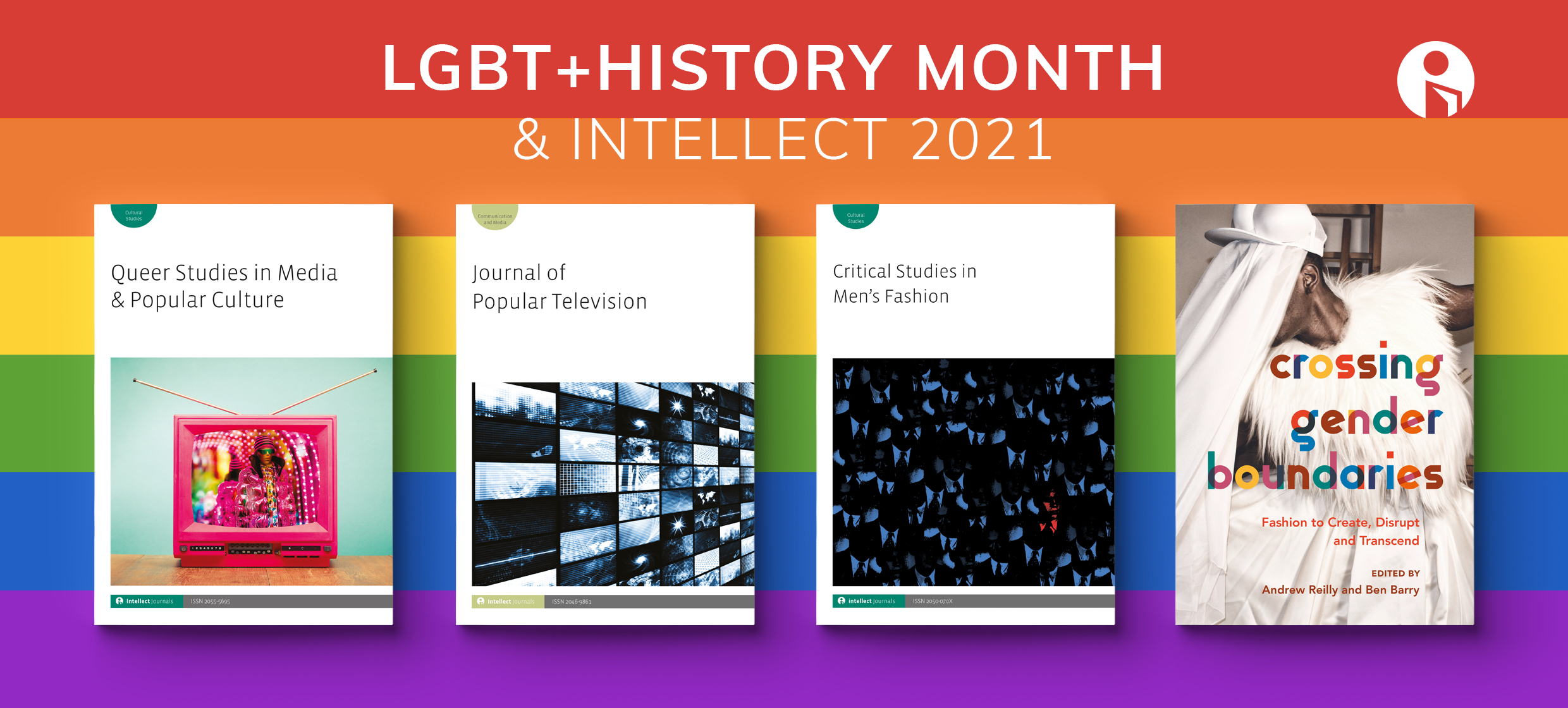 Intellect is proud to be supporting #LGBT+HistoryMonth, which is celebrated in February in the UK. LGBT+ History Month is a month-long annual celebration of lesbian, gay, bisexual, trans and non-binary history, including the history of LGBT+ rights and related civil rights movements.

To find out more about #LGBT+HistoryMonth, please visit the LGBT+ History Month website or visit Outing the Past.

Intellect is pleased to share free journals and book content looking into queer fashion, queer representation in television, queer performance, gender studies and more.


Journals


We were queer first: Male homophobic anxieties in three American sitcoms of the 1990s
Alec Charles, 2020
The Journal of Popular Television 8.1

This article investigates how three of the most popular and influential mainstream American situation comedies of the 1990s (Seinfeld, Frasier and Friends) explored and developed societal attitudes to sexual identities. None of these sitcoms feature gay male characters in leading roles, yet (the odd camp restaurant critic aside) they may be seen as pioneering popular televisual representations of attitudes towards male homosexuality. This article argues that these sitcoms (which are today considered homophobic by some) may, in their exploration of problematic responses to differences in sexual identities, be (in effect) more progressive than those series of that period (such as Ellen [1994‐98] and Will & Grace [1998‐2006, 2017‐20]) whose representations of central gay characters in positive but often stereotypical ways tended to avoid (or posited that they had no need to engage in) discussions of the prejudices of wider society (of homophobic ridicule, discrimination and violence).


The unknowing ... X: Queering representations of masculinity in an undetectable world

Richard Sawdon Smith, 2020
Critical Studies in Men's Fashion 7.1&2

Over the years, I have amassed a huge dressing up box, accumulated from different parts of my life ‐ AIDS patient to university professor, gender bender to porn star, go-go dancer to boxer, drag queen to leather queen, son to daddy! HIV+ since 1994, on medication and undetectable, I approach my sixth decade reflecting on past lives and the unknown future.

This series is about dipping into the dressing up box to create new and potential different roles by performing for the camera and playing with gender, identity, sexuality, masculinity and everything in between. It is about unthinking in a space of creative unknowing. An exciting place where anything can happen and nothing is predetermined, where there is everything to look forward to.

The X of unknowing ... can be a kiss from me to you, a reference to non-binary, non-gendered specific pronouns, or it can refer to an undetermined space, literally and metaphorically.


Queer fashion practice and the camp tactics of Charles Jeffrey LOVERBOY

Fenella Hitchcock, Jay McCauley Bowstead, 2020
Critical Studies in Men's Fashion 7.1&2

This article focuses on the collections of London-based, Glaswegian designer Charles Jeffrey who has won plaudits for his spectacular, subversive, theatrical and highly camp catwalk shows. His label LOVERBOY ‐ having grown out of an East London club night of the same name ‐ brings together eclectic historical references with the stylistic bricolage of the queer scene from which it emerged. Using a combination of image analysis and a semi-structured interview with Jeffrey, this article investigates how he has blurred the boundaries between the nightclub and the runway, the collective and the named designer to formulate a distinctly queer mode of fashion practice. At LOVERBOY the transformative possibilities of the nightclub; the heightened emotion of the dance floor; and the embodied, affective, temporal qualities of 'queer sociality' are transposed onto the catwalk, revealing the role of fashion and clothing in practices of queer world-making. Camp aesthetics and queer nightlife have played a crucial role in the history of fashion ‐ perhaps most notably during the 1980s when designers like Bodymap, Jean Paul Gaultier and Stephen Linard drew extensively on queer signifiers in their work. However, the success of LOVERBOY marks a shift in contemporary cultures of gender as discourses of queerness and performativity reach a new point of amplification. After the seriousness, refinement and minimalism of millennial fashion, the liminality, polysemy and exuberance of camp has again reasserted its transgressive potential.


Queer gender performance and media in school: Dissident reading, bullying and the word 'gay'

Christopher Pullen, 2018
Queer Studies in Media & Popular Culture 3.3

This article explores the potential of youth to learn about gender performance and sexual identity in school, framing the vulnerability of LGBTQ youth and issues of bullying. Exploring the significance of 'dissident reading' as the ability of a student to independently read or interpret media representations that may involve an analysis of stereotyping and irony, this article foregrounds research from five schools in the United Kingdom involving responses from 82 school children. Offering both a theoretical examination of dissident reading as a process to challenge hierarchies of gender performance and sexual identity, and an analysis of the discourse of school children themselves, a mixed-methods approach is involved in this research, framing limitations in school environments in the education of sexual diversity. This article argues that individual teachers have not only historically embarked on personal strategies of education outside the curriculum on the needs of LGBTQ youth but also that with the contemporary rise of populism, there is an increasing need for this.


Books


Crossing Gender Boundaries: Fashion to Create, Disrupt and Transcend
Edited by Andrew Reilly and Ben Barry

Crossing Gender Boundaries is available Open Access thanks to funding from Knowledge Unlatched.

This volume presents a collection of the most recent knowledge on the relationship between gender and fashion in historical and contemporary contexts. Through fourteen essays divided into three segments – how dress creates, disrupts and transcends gender – the chapters investigate gender issues through the lens of fashion.

You can view the PDF here