Pride 2021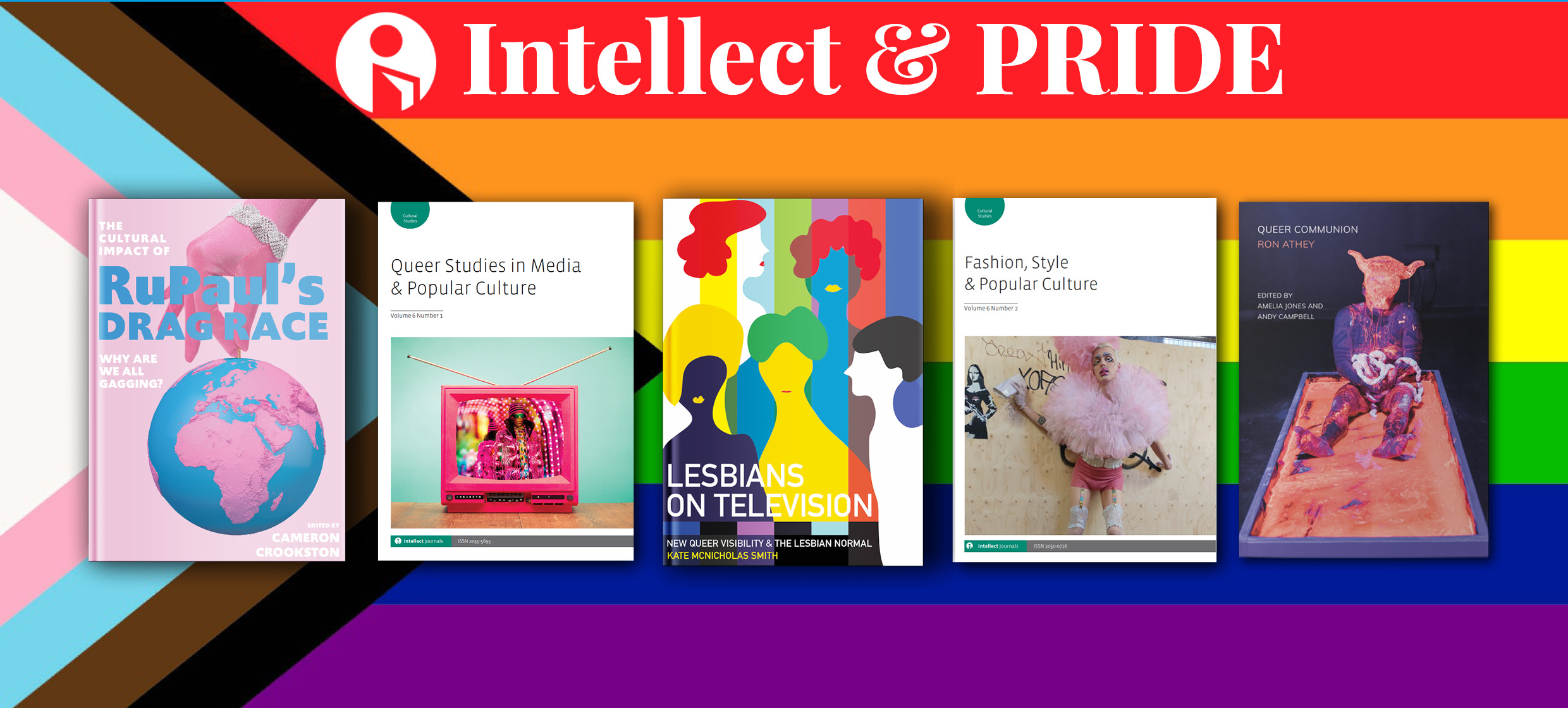 Intellect is honoured to support Pride, a month-long time of awareness and action chosen to coincide with the anniversary of the Stonewall uprising.
Pride is a protest. It's a celebration and commemoration of the work of all who have come before us in the fight against discrimination. In particular we recognise trans people of colour, who were not only instrumental in Stonewall and LGBTQ+ activism, but are also disproportionately subjected to violence and erasure. Pride is a moment to acknowledge how far we have to go to gain equality for LGBTQ+ people, as well as to uplift the wonderful work that is being done right now.
To find Pride events in your area, check the International Gay and Lesbian Travel Association's calendar here: https://www.iglta.org/Events/Gay-Pride-Calendar
Intellect is working to create an inclusive and diverse space for all our authors, editors and readers, and we are proud of all of our content and contributors that reflect this. Thank you.
Free Articles
To honour Pride, Intellect are happy to share the following articles, which have been made FREE until Monday 5 July:
' "Deviant" Psychosis: An Exploration of the Production and Consumption of Queer and Transgender Women in the Films of Brian De Palma'
Sam Lawson, Film Matters 11.3 (2020)
'Trans Revolutionaries'​
​Olga ​Chagaoutdinova​, Morag​ Shackerley-Bennett, ​Wilfredo Candebat Lussón, ​Malu Cano Valladares, Public, ​31.62
'​The Stigmatization of Queer Black Women in Television​'​
Thomas Cruz,​ Film Matters,​ 10.1 (2019)
'Italian LGBTQ representation in transnational television'
​Julia Heim, ​Journal of Italian Cinema & Media Studies, 8​.​2 (2020)
​'​'Queer Italian migrations': Tonino De Bernardi's Rosatigre (Tiger Rose) (2000) and the reconfiguring of Roberto Rossellini's Stromboli, terra di Dio (Stromboli, Land of God) (1950)',
​Oliver Brett, ​Journal of Italian Cinema & Media Studies, 6​.​1​ (2018)
​'A home on the floor: The musical expression of a DJ in a queer place​'
Jonathan Schaller, ​ Journal of Popular Music Education​, 4.3 (2020)
​'​Frozen, Homosexuality and Masochism​'​
Robert Geal, Film International,​ 14​.​2 (2016)
'Daddy's little girl: Multigenerational queer relationships in Bechdel's Fun Home'
Miriam Brown Spiers, ​Studies in Comics, 1.2 (2010)
'Towards flow: cross-stitching poetry'
Timo Rissanen, ​Craft Research, 8.1 (2017)
'How to transform fashion education: A manifesto for equity, inclusion and decolonization'
Ben Barry, International Journal of Fashion Studies, 8​.​1 (2021)
​'​Systemic barriers in mental health care for LGBTQI and gender nonconforming drama therapists and clients​'​
Mark Beauregard, Ross Stone, Nadya Trytan, Nisha Sajnani, Drama Therapy Review, ​3.2 (2017)
'Patrick Kelly: Fashions' great black hope'​
Van Dyk Lewis​ and​ Keith A. Fraley, F​ashion, Style & Popular Culture, 2.3 (2015)
'The body as costume: The theatricality of the male body and the modern peep show'
Jorge Sandoval, ​Fashion, Style & Popular Culture, 6.2 (2019)
​'​​​'​'Does he know you like I know you?​"​: Barbara Kean's bisexual appeal, the Male Gothic and Gotham's woman problem​'​
Carey Millsap-Spears, ​Queer Studies in Media & Popular Culture, 6.1​ (2021)

'Bridging the generational divide: The mixtape of being a White, gay, Gen X drama therapist living through HIV/AIDS and COVID-19'
Jason Conover, Drama Therapy Review, 6, Supplement (2020)


Spotlight Journals
Queer Studies in Media & Popular Culture

Fashion, Style & Popular Culture
Special Issue: 'Seeing, Recording and Discussing LGBTQ Fashion and Style'
Spotlight Books
Queer Visibility in Post-Socialist Cultures (2013)
Entering Transmasculinity (2016)
Performing Revolutionary (2018)
Veganism, Sex and Politics (2019)
Crossing Gender Boundaries​ (2020)
This book is available Open Access
Cultural Impact of Ru Paul's Drag Race (2021)
Click here for a free chapter, Chapter 3: Queering Africa: Bebe Zahara Benet's "African" Aesthetics and Performance: https://intellect.stisonbooks.com/media/9781789382563_Chapter_3.pdf
Coming Soon
The Music Diva Spectacle (2021)
Fat Activism 2nd edition